Welcome Diamon Readers
Al's columns are always hilarious and I thoroughly enjoyed his
take on me and the site
. He might not
remember
, but 10 years ago in the Bangor Daily News, he wrote "Political campaigns resemble pornographic slasher movies." If that's true, Diamon is one of the best movie critics out there.
The most interesting part of our talk last week was on the subject of past referendums on gay rights and the future of this kind of legislation. Al had some real insight here and I'll be writing more about that later.
Oh, and just for the record, Halifax is south of Bangor.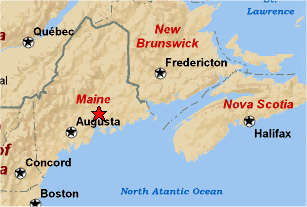 Visit the new
Maine Politics
.